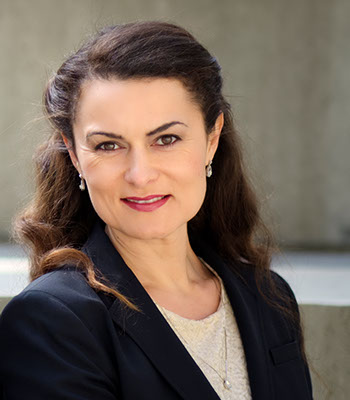 Polina Bernstein founded Bernstein & Friedland, P.C. in 2009 after specializing in employment law and business litigation in the big firm sector for over eight years. During the last six of those years, Ms. Bernstein worked in the labor and employment department of Winston & Strawn, LLP, a global law firm and one of the oldest law firms in the United States.
Ms. Bernstein has extensive experience litigating employment-related matters in both federal and state court. Ms. Bernstein's experience includes successful representation in matters involving employment discrimination, sexual harassment, misappropriation of trade secrets, wrongful termination, retaliatory discharge, defamation and breach of contract, including unpaid commissions claims. Within the area of discrimination, Ms. Bernstein frequently litigates and advises clients on pregnancy and disability discrimination and reasonable accommodation issues.
Ms. Bernstein has also handled single-plaintiff and class action matters involving wage and hour violations. She has defended claims brought before the Equal Employment Opportunity Commission, Department of Fair Employment and Housing, and the California Labor Commissioner.
Ms. Bernstein also conducts workplace investigations, provides employment-related training for management, and counsels employers on their rights and obligations under federal and state laws in all aspects of labor and employment compliance, including reductions in force, wage and hour audits, hiring and firing, disability related issues, employment policies and handbooks, and other employment related matters.
Ms. Bernstein developed her strong work ethic and competitive edge in her youth as one of the top ranking athletes in the United States in the sport of rhythmic gymnastics. As a member of the U.S. National Team, Ms. Bernstein represented the United States in international competition.
EDUCATION
University of Southern California Gould School of Law
Claremont McKenna College
AWARDS
From 2008 through 2013, Los Angeles magazine recognized Ms. Bernstein as one of "Southern California's Super Lawyers – Rising Stars," placing her among the top 2.5 percent of the best up-and-coming attorneys in Southern California
Nominee, 21st Annual Los Angeles Business Journal Women Making a Difference Awards
ARTICLES AND PUBLICATIONS
"Children and Mothers at Risk: A System Failing to Alleviate the Devastation of Drug Abuse," 10 S. Cal. Interdisciplinary Law Journal (1) 107, 2001
SPEAKING ENGAGEMENTS
Presenter, Employment Law Update, Provisors, 2013-2020
Co-Presenter, Eliminating Workplace Bias In 2016: An Overview Of The New California Employment Discrimination Laws, Beverly Hills Bar Association, January 2016
Co-Presenter, California Employment Law Recent Developments, Women in Networking, April 2013
Presenter, How to Bring and Defend Claims Under the Fair Employment and Housing Act ("FEHA"), Los Angeles Bar Association, January 2012
Presenter, Wage and Hour Update, California Society of Certified Public Accountants, August 2010
Presenter, Employee Performance Evaluations: The Good, the Bad, and the Illegal
16000 Ventura Boulevard, Suite 1000, Encino, CA 91436
Tel: (818) 817-7570 | Fax: (818) 530-7746
polina@laemploymentcounsel.com | diana@laemploymentcounsel.com
© 2020 Bernstein & Friedland, P.C. All rights reserved.