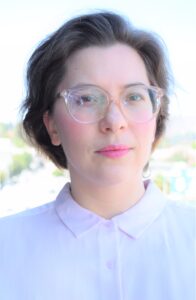 Alex Link began working as a paralegal at Bernstein & Friedland, P.C. in 2019 with eleven years of prior paralegal experience. After graduating cum laude from Claremont McKenna College in Claremont, California, Alex started her paralegal career in her home state of Illinois, where she supported the founding partner in a Chicago workers' compensation law firm.
Before moving to California, Alex lived in Austin, Texas, and worked for over five years at Deats, Durst & Owen, P.L.L.C., a labor and employment law firm. While working there, Alex was part of the firm's trial team, assisting as the dedicated paralegal in multiple jury trials, with one trial lasting over a month.
In addition to paralegal skills and experience, Alex brings other talents to Bernstein & Friedland. She is fluent in Spanish and an Excel expert, and she can find a way to properly organize just about anything. She is dedicated and compassionate, with a strong analytical mind.
In her free time, Alex enjoys powerlifting at the gym, taking walks around her neighborhood, watching old movies with her husband, and snuggling up with a good book and her cat.
16000 Ventura Boulevard, Suite 1000, Encino, CA 91436
Tel: (818) 817-7570 | Fax: (818) 530-7746
© 2022 Bernstein & Friedland, P.C.
All rights reserved..
Skip to content